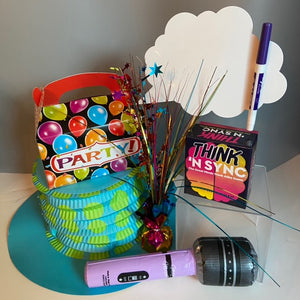 Virtual Party Kit: Think 'N Sync
Host a virtual party with family and friends when you can't be together in person.
This kit comes with everything you need to celebrate special occasions remotely:
a specially selected game that can be played in a virtual setting (see below for description of the game in this kit)
an accordion-style party hat to dress up the host
an inflatable 9.5" microphone for the party host to use as a prop (to add some fun as the host welcomes the virtual guests and runs the activities)
a 12" colorful tabletop centerpiece to decorate the host's party spot
a 6" x 5" x 3 1/2" party box to hold guests' written messages (the host can collect these in advance by email, phone, or paper mail)
a dry-erase speech bubble sign on a stick (approx. 12" x 7" - styles vary) plus a dry-erase marker to add to the party atmosphere (you can write "Happy Birthday" or other party messages, and then change them as you'd like as the party progresses)
The game and props are selected to fit within a small table area, for virtual viewing.
The host (the person running the party) may not necessarily be under the same roof as the guest of honor, so send the kit to the host's home. Assist the guest of honor with cues as needed. Keep things light and fun! 
This kit features the game Think 'N Sync. Choose a partner, then try to shout out a word at the count of 3 that answers a category card. (For example, name an ice cream flavor? 3-2-1-shout it out.) Call out the same word, and give yourselves a point. Suggestions for virtual play: The host reads the category card, then asks one team at a time to give their answers. One point is scored if the answers match. You can keep the same teams or rotate around. The player or team with the most points at the pre-determined ending time wins! Hint: Have guests come to the virtual party with paper and pen. Includes 225 category cards. Box measures 3 3/8" x 3 5/8" x 2".
Supervision as needed. Review all Safety Tips and other instructions. Manufacturer's Warning (microphone): Choking Hazard - Small Parts. Not for children under 3 years. Manufacturer's Warning (hat): Not recommended for children under 3 years of age. Warning (dry erase marker): Not suitable for children under 3 yrs. Small parts (choking).
Adding product to your cart
Come Dabble With Us!
Subscribe to our newsletter
for product updates, promotions, and other news.